What do tour golfers think about during their golf swing?
Answer....Nothing! A recent survey revealed that 18 of 25 tour players don't think about anything during their swing
Graeme McDowell said 'You turn off your mind and feel your golf swing without thinking about it.'
Rory McIlroy said 'Try to de-clutter your mind. Just concentrate on making good contact.'
Bubba Watson 'You want to think about your target, not your swing. You don't want your mind to create a bad shot.'
Rickie Fowler 'I rarely think about mechanics. For me golf is about feel and swinging free'
Ian Poulter 'What's my swing thought? Absolutely nothing. Just be clear about what you want to do.'
Padraig Harrington 'In 1997 I read, Golf is Not a Game of Perfect by Bob Rotella. I've never had a swing thought since then. When I get on the course I focus on the target, that's it. No physically or technical thought whatsoever.'
The message is clear.....
If you want to think like a professional, then you need to find a way to stop your conscious thoughts from interfering with your golf swing.
You'll need to leave the process, of giving instructions to body parts, on the practice range where they belong and enter a thought free zone.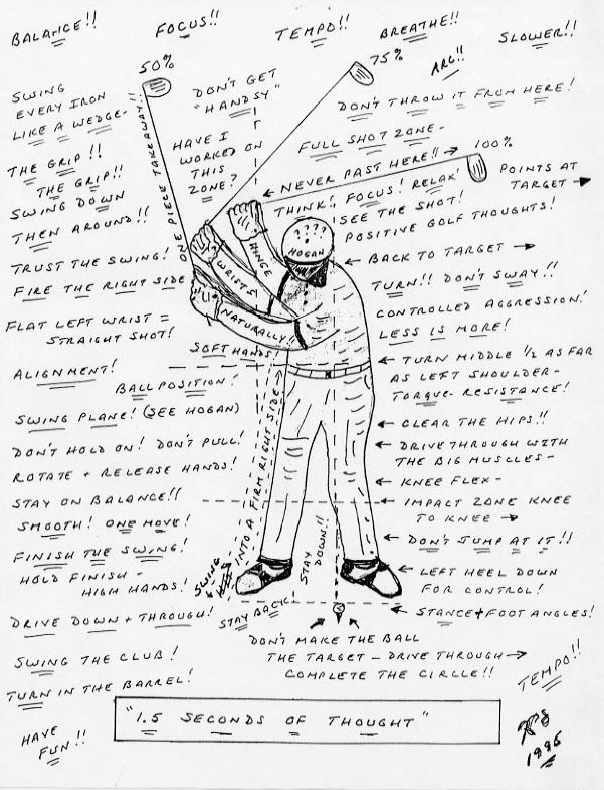 If you can find a way to de-clutter your mind during those few seconds it takes to play each shot, then you'll play with a tour golfers mindset. A mindset that enables you to settle naturally into a state of flow, in 'The Zone' with a calm mind and 'Quiet Eye' whenever you play a shot.
What is the Quiet Eye Technique? "When your eyes provide the data, your motor system just knows what to do," says Joan Vickers, a cognitive psychologist at the University of Calgary and the originator of the quiet-eye theory. "Your brain is like a GPS system. It detects target, speed, intensity, and distance."
While it may be difficult, quiet eye is a teachable skill. Vine and Wilson say that so far, their research has shown that quiet-eye exercises may improve performance in basketball shooting, golf, marksmanship, and surgery. Vine has trained professional golfers, Olympic athletes, and soldiers in the technique.
The Role of Hypnosis in professional golf....
Tiger Woods was 13 years old when he was introduced to hypnosis as an effective way to block out distractions on the golf course. Today he says; 'Hypnosis is inherent in what I do now. I've learned to trust my subconscious mind and my instincts have never lied to me'
Peter Oosterhuis used hypnosis in the early 1970's to improve his mental game.
Jack Nicklaus lauded hypnosis and visualisation as the sole reason for his improved concentration.
Seve Ballesteros understood the subconscious power of the mind in his game. 'I visualise the swing needed to execute the shot, then I select the club for the task'
Jason Day displays an obvious example of subconscious mind power when he prepares to play a shot. He closes his eyes, visualises the shot he wants to play, then with no further thought, just plays the shot.
Golf Performance Hypnosis and the average golfer....
Our Golf Performance Hypnosis sessions are available to both professional and week-end golfers, seeking to improve their game, reduce their handicap and gain a competitive edge.
If you've done everything physically possible to improve your game. If you hit great shots on the practice range but still play poorly on the course, then it's time for a Golf Hypnosis session.
' Get your mind into the game and play better golf '
Is it easy to improve your mental game?
Very Easy! When you're able to play in 'the zone' with a quiet mind and no maybe thoughts, you'll swing fluidly with the instinctive balance and rhythm required to strike pure, consistent, golf shots.
'Sometimes, it takes a deeper conversation to improve your game'
What happens during a Golf Performance Hypnosis session?
In a standard 45 minute session all you need to do is relax, so that your subconscious mind can learn how to settle into a state of flow, during those few seconds it takes to play a golf shot.
Guarantee
We guarantee that you won't be made to cluck like a chicken or do anything you don't want to do. You won't be asleep either, just relaxed, in a daydream state-of-mind that enables you to make the easiest improvements you ever imagined.
How do tour golfers achieve a winning mindset?
They add Golf Performance Hypnosis to their training program. This enables them to enhance their existing playing skill, by tapping into their natural subconscious abilities and harnessing the power of shot visualisation.
This kind of mindset training enables players to feel calm and in 'the zone' when playing a shot. It enables them to clearly visualise the ball's flight-path to the target and eliminate thought based, and external distractions.
It also aligns the intentions of their conscious mind with the instinctive abilities of their subconscious mind, to eliminate 'subconscious sabotage' the enemy of all golfers.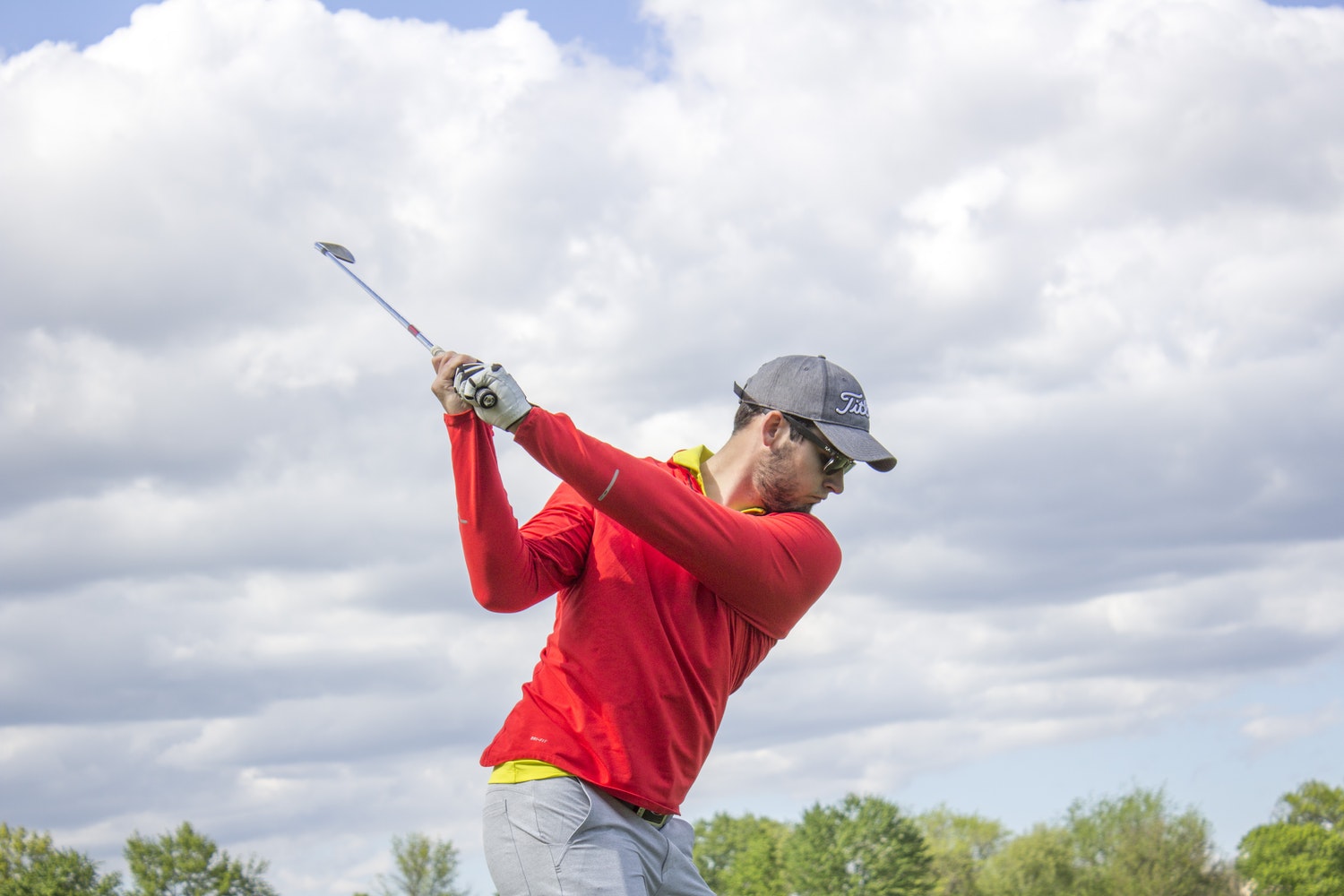 Food for thought
Brooks Koepka became the world number 1 player after winning the U.S. Open, CJ Cup & PGA Championship in 2018. Brooks followed up by winning this coveted championship again in 2019.
Keys to the mental game of Brooks Kopeka
1. Brooks doesn't think about winning
When asked what he thinks about before a round of golf, he said: "I won't be thinking about winning, I'll just be focusing on hitting each shot one at a time. When you think about winning, that's when you get nervous".
2. He stays in the present moment
He says "I just stay in the moment. I never think one hole ahead. I'm not thinking about tomorrow. I'm not thinking about the next shot. I'm just thinking about what I've got to do right then and there. It's very simple."
3. He expects and he accepts mistakes
He's says "if the course is difficult it's easier for me to win, because it eliminates players who find it hard to rebound from mistakes. You're going to make a lot of mistakes and guys have a hard time letting that go."
4. Brooks converts negativity into positive outcomes
"Tell me I can't do something and I can't wait to prove you wrong."
5. He is super focused
"I'm more focused than anybody out there. I think I'm tunnel-visioned."
Overcoming The Yips
Should you work on your technique to overcome "The Yips" or on your mental game? Are you perhaps over thinking the shot?
Beating the Yips is a matter of Golf Psychology
If, Jack Nicklaus is right, then "Golf is 80% mental, 10% skill, and 10% luck" and therefore The Yips is more likely to be fixed by working on your Mental Game, than by working on your technique.
Over the years, golfers have described The Yips using terms such as Twitches, Staggers, Jitters etc. WikiPaedia defines the Yips as a movement disorder known to interfere with putting. The term Yips, is said to have been popularised by Tommy Armour, a golf champion and teacher, to explain the difficulties that led him to abandon tournament play. Researchers at the Mayo Clinic found that 33% to 48% of all serious golfers have experienced The Yips.
Although the exact cause has yet to be determined, one possibility is biochemical changes in the brain. In other words, a problem related to the Mental Game and yet many golfers tackle the problem using a variety of physical remedies, such as changing their putter, or their grip, even switching hands, or try strategies that guarantee no lasting relief. Some even give up altogether and just stop playing golf.
Historically, golfers affected by the Yips include: P'adraig Harrington, Bernhard Langer, Ben Hogan, Sam Snead, and Ian Baker-Finch.
Winning the Battle of the Mind in Golf
What words would you use to describe how you feel in the moments before you hit a short putt, tentative, anxious, fearful, doubtful, overwhelmed? These are words often use by golfers to describe what they feel, when they experience The Yips.
Do you doubt yourself even when the putt is not difficult?
If so then perhaps the answer is as simple as, "Getting out of your own way to allow your intuitive mind to do what it already knows how to do" I may sound counter intuitive but "To gain control you may have to give up control."
Self doubt surfaces in many ways when playing Golf. It's often triggered by un-fulfilled expectations, a bad shot, a poor score, a lack of mental focus or a variety of other factors.
The most effective and lasting way to strengthen your mental game and overcome The Yips, is Sport Performance Hypnosis.